The Paulding Dairy Queen has finished its major remodeling project located at 1101 N Williams Street in Paulding. Kathy Cadwallader, Independent Franchise Owner of the Paulding Dairy Queen invites you to try the new DQ Bakes!TM Artisan-style Sandwiches, new DQ Bakes Oven Hot dessert items and a new $5.00 lunch menu that will have your hunger covered. To special order your special ice cream cakes stop by your local DQ or call 419-399-2542. Hours 10:30am to 10pm & Sunday 11am–10pm
Logisticize Ltd has purchased the former Liechty Farm Equipment property at 821 E Perry Street in Paulding. Logisticize Ltd is a specialty transportation trucking company serving the region. Owner Rick Plummer is excited about this new location. It will provide them easy access to US 127 and additional parking for their fleet of trucks. They are looking for additional truck drivers as they expand their services. You can contact them at 419-399-3900 or Rick at rickp@logisticize.net
Alex Products is in the process of making a large capital investment of new equipment at the Paulding operation. In addition they will be hiring 20 to 30 more employees over the next few months. Alex Products is a world-class manufacturer of automotive seat frames, tooling and automation. API's specialties include: tube forming, wire forming, metal stamping, MIG and resistance welding. API also provides full service e-coat and powder coat finishes. Phone 419-399-4500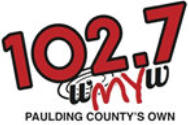 WMYW 102.7 FM officially started broadcasting on June 5. Paulding County's only locally owned licensed radio station MY 102.7 FM is owned by Joe B. Barker of Antwerp, Ohio. Joe says, "We will be playing classic rock including the Beatles to Bon Jovi." "We're in the process of building a studio inside the existing concrete structure at the broadcast tower on Road 176 west of LaFarge." "I'm excited about giving our local schools and county local events a spot light." Check it out today at 102.7 FM.
Putman Law Office has opened a new satellite office in Paulding at 108 Jackson Street. Attorney Shaun A. Putman and Attorney Rachel L. Franklin are looking forward to serving their Paulding County clients from this new location on the square in downtown Paulding. Areas of service include estate planning, probate, personal injury, medical malpractice, business formation, criminal defense, juvenile law, and family law. Contact them at 419-567-1561
Paulding Ace Hardware has invested in a new Sales, Service & Rental Center at 1251 N William St in Paulding, Ohio this spring. Tom Sinn and his staff are now selling a complete line of TORO lawn and garden equipment and servicing all makes of lawn and garden equipment. They have a complete line of STIHL products for both homeowners and commerical users. The new rental center has a wide range of items from table and chairs to small excavating equipment for rent. They are open Monday – Saturday from 7:30 AM to 7:30 PM and Sunday 11:00 AM to 4:00 PM. Phone 419-399-3136. Their E-mail address is pauldingacehardware@yahoo.com. Like them on Facebook: Paulding Ace Hardware.
The Greenhouse Effect, a full service garden center south of Antwerp, is now under new operators. Alec Purmort & Dawn Marshall opened on April 10. Alec worked in a large greenhouse in another part of Ohio for a number of years and when the greenhouse, located at 11436 State Route 49 in Antwerp was available for lease he partnered with Dawn Marshall and moved back to Northwest Ohio to fulfill his dream of operating his own greenhouse. They have beautiful hanging baskets, bedding plants, fruit & ornamental trees, potted arrangements, mulch, vegetable starts, seeds, locally crafted garden art, lawn & garden supplies and much more. Future plans are to open a Farmers Market later this year with fresh vegetables and fruits. They are open Tuesday – Sunday from 9 AM to 6 PM. Their E-mail address is: TheGreenhouseEffectNursery@gmail.com. Phone 419-258-9333. Like them on Facebook: The Greenhouse Effect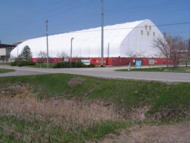 Lafarge North America, in Paulding recently expanded its cement operations with a new 33,000 square foot warehouse. The warehouse was designed by ClearSpan Fabric Structures and went into use in March 2015. The company also installed a portable belt stacker for building piles of clinker in the new building, an intermediate component of making corporate cement. Altogether the upgrades cost $750,000 dollars according to plant manager Jeffrey Scott. "The clinker goes in there and is stacked," he said. "Can you imagine we're going to build a 35,000 ton pile inside the warehouse, and in order to get it stacked all the way as high as we can go, we had to have a 50-foot tall belt stacker." According to Scott, the clinker is a dusty, intermediate material used in the creation of Class A cement, which had been stored outside prior to the completion of the warehouse. In addition to being somewhat cleaner, this will also allow for the growth of a new product. "Over the last two years we have become American Petroleum Institute (API) certified in the manufacturing of oil fuel cements, so this is also a part of the growth of a new product for us," he said. "Most of the product is going into the shale oil fields in southeast Ohio, southwest Pennsylvania, and western West Virginia. Lafarge Paulding was featured in the May issue of Lake Erie West Manufacturing and Construction Journal.
Paulding County Fairgrounds Fund This year's Paulding County Fair will have a new look with the addition of three new livestock buildings. Through the great work of a dedicated committee of volunteers with the Paulding County Fairgrounds Fund and the generous donation of time, materials and money from many donors, this project has now been completed. The 4-H youth of Paulding County that exhibit swine, lambs, goats, and poultry will benefit from these new buildings for many years to come. The buildings will be a great resource for other events that are also held at other times of the year at the fairgrounds. If you would like to donate to the Paulding County Fairgrounds Fund please send your donation to the Paulding County Area Foundation at 101 E Perry Street, Paulding, Ohio 45879. I you have any questions please contact Lisa McClure, Executive Director with PCAF at 419-399-8296.