Taylor Made Glass Systems, Payne, OH has announced a $1.5 million investment in new digital printing equipment and the addition of two glass fabrication and cut lines.  Additionally, a portion of the company's windshield assembly business will come to Payne from the sister plant in Kendallville, IN.  These exciting changes bring with them an additional 40 jobs to Paulding County.
Taylor Made Glass Systems is is owned by Lippert Components, Inc.  They are a wholly-owned subsidiary of LCI Industries (NYSE:LCII) head-quartered in Elkhart, IN.
KAUSER Excavating, LLC Septic Service – Kauser excavating has purchased a truck to offer local septic system pumping for existing septic systems.  The truck is also equipped with a sewer jetter to be able to clear any plugged sewer lines.  Ben and his staff will continue to handle the daily operations of running the pumper truck, but there is opportunity to grow and hire more employees if the demand warrants the need.  The new Kauser septic service is currently available in Paulding, Putnam, Defiance, Van Wert, and Williams Counties.  They are additionally working to obtain an Indiana license as well. You can contact Kauser Excavating & Septic at 419-769-9969 or kauserexcavating@gmail.com 
Growth Fitness of Paulding is a new 24 hour gym facility in the Paulding Place Shopping Center.   Owner Kass Chestnut comes to Paulding County form the Delta, OH area where he has previously offered personal excercise and training programs.  Kass is hoping to grow the Paulding County business by being the first 24 hour operating gym in the county.  You can find the complete pricing and all membership options at www.growthfitnesspaulding.com or by calling or texting 419-785-6411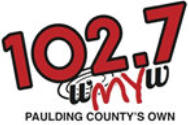 WMYW 102.7 FM officially is Paulding County's only locally owned & licensed radio station. MY102.7 FM is owned by Joe B. Barker of Antwerp, Ohio. Joe says, "We will be playing classic rock including the Beatles to Bon Jovi.  We're in the process of building a studio inside the existing concrete structure at the broadcast tower on Road 176 west of LaFarge.  I'm excited about giving our local schools and county local events a spot light."
Just recently the station has added a sports program segment that includes updates and information about all three county school systems Antwerp Local, Paulding Exempted Village and Wayne Trace Local.  There are also highlighted segments each Saturday morning on My102.7 Sports. Check it out today at 102.7 FM.
Paulding Ace Hardware has invested in a new Sales, Service & Rental Center at 1251 N William St in Paulding, Ohio. Tom Sinn and his staff are now selling a complete line of TORO lawn and garden equipment and servicing all makes of lawn and garden equipment. They have a complete line of STIHL products for both homeowners and commerical users. The new rental center has a wide range of items from table and chairs to small excavating equipment for rent. They are open Monday – Saturday from 7:30 AM to 7:30 PM and Sunday 11:00 AM to 4:00 PM. Phone 419-399-3136. Their E-mail address is pauldingacehardware@yahoo.com. Like them on Facebook: Paulding Ace Hardware.
Paulding County Fairgrounds Fund Through the great work of a dedicated committee of volunteers with the Paulding County Fairgrounds Fund and the generous donation of time, materials and money from many donors, this project has now been completed. The 4-H youth of Paulding County that exhibit swine, lambs, goats, and poultry will benefit from these new buildings for many years to come. The buildings will be a great resource for other events that are also held at other times of the year at the fairgrounds. If you would like to donate to the Paulding County Fairgrounds Fund please send your donation to the Paulding County Area Foundation at 101 E Perry Street, Paulding, Ohio 45879. If you have any questions please contact Lisa McClure, Executive Director with PCAF at 419-399-8296.