At-Home Screening of the film SILO during virtual Farm Science Review
Grain Bin Safety is a key to farm harvest
Join the OSU Extension Agricultural Safety and Health Program
for an at-home screening of the film SILO during the virtual 2020 Farm Science Review.
SILO is the First-Ever Feature Film about a Grain Entrapment. Inspired by actual events,
SILO follows a harrowing day in an American farm town. Disaster strikes when teenager
Cody Rose is entrapped in a 50-foot-tall grain bin. When the corn turns to quicksand,
family, neighbors, and first responders must put aside their differences to rescue Cody
from drowning in the crop that has sustained their community for generations. Earlier in
the year, I had the opportunity to watch the film SILO during the American Farm Bureau
Federation National Meeting. If you are involved in farming or work in agribusiness, this
movie is a great watch.
Safety around grain bins is one of the areas of focus I have for Paulding County. Many of
our local fire departments have volunteers trained in grain bin rescue and, via grants,
have the equipment to use in the county if the need arises to complete a rescue. With
Farm Science Review in a virtual, online format, seeing the movie is free. There are
specific times to watch, and registration is a must, but please take time for this great
opportunity.
Free screenings of the film SILO will be offered as a part of Farm Science Review 2020. It
is an excellent opportunity for friends and family to spend an evening together watching
a movie from the comfort of their own home. A way to start a dialog around safety for
families, FFA chapters, or older 4-H members. Thank you for your support in keeping our
farm communities safe this harvest season.
Register here for the Tuesday, September 22 screening at 7:00 p.m. EST.
SILO DURING FSR PAGE 2
Register here for the Wednesday, September 23 screening at 7:00 p.m. EST.
Link and flyer to get registered for the event
The trailer of the film SILO
For more detailed information about Agriculture, Natural Resources, 4-H, SNAP-Ed
programming, or Water Quality programs, visit the Paulding County Extension website at
www.paulding.osu.edu or the OSU Extension Paulding County Facebook page.
For additional information on any agriculture or horticulture topic, contact Sarah Noggle,
Paulding County Extension Educator, Agriculture, and Natural Resources, at
noggle.17@osu.edu. Due to COVID-19, individuals cannot walk in the OSU Extension Office at
503 Fairground Drive, Paulding, without an appointment. However, they call still reach any
person in the Extension Office by calling 419-399-8225.
New Home Horticulture and Natural Resources Blog for Paulding County
Help in answering your home horticulture questions
Throughout the year, the OSU Extension Office receives questions
about home gardening, landscaping, tree planting or disease, soil sampling, flower growing,
insects, and wildlife control, to name a few. With the Paulding County Master Gardener
hotline taking on a different look in 2020, Extension Educator, Sarah Noggle, felt it would be
essential to help our homeowners and community members unpack all the different
resources available via Ohio State University Extension as well as the State Master Gardener
Volunteer website. Noggle wanted a personal touch to help with the questions coming into
the county, so she felt a blog would be a great fit. The new blog is located at the website
http://u.osu.edu/pauldingmgv.
"Sometimes it's hard to find answers to these type questions or where to call. Today we are
more tech-savvy than even five years ago, and I know that people take pictures on their
phones. Sometimes, it's as simple as a homeowner not knowing how to get the pictures to
me, whether via email or text. Additionally, some of these questions are similar and come in
waves. Last week, I had many calls about black spots on Maple Trees," shared Noggle.
"Googling questions doesn't always yield correct or, unfortunately, accurate answers. The
OSU Extension Office is still operating; however, it is by appointment only, so when people
want instant answers, they can't just walk directly in the office and receive service."
The new blog is accomplishing many things. It brings some of the county's horticulture and
natural resource questions to a quick resource for consumers to find easily via a blog post.
Sometimes these are directly written by Noggle, one of the county's Master Gardener
Volunteers, and other times they are coming from a close county educator or one of our State
Specialists in Extension. Consumers can choose to subscribe to the blog and receive a
weekly email to their inbox. The subscription button is located in the bottom right-hand corner
PAULDING COUNTY EXTENSION BLOG PAGE 2
of the website. The blog also has a form to help upload your questions and pictures to better
diagnose horticulture problems affecting the consumer. This link is located at
https://u.osu.edu/pauldingmgv/mgv-hotline/. Additionally, Noggle is sharing upcoming
educational programs that are offered in-person or virtually via the blog.
"Many times, when it comes to home horticulture hotline questions, it is playing phone tag
with consumers, because I need more information to help diagnose their questions. The back
and forth can sometimes delay the process of getting to the bottom of the problem. Some
weeks, I only have a few phone calls, and other weeks I receive over twenty calls. The new
form on the blog is user friendly and allows you to upload multiple photos. Sometimes the
voicemail or email I receive is, 'what is wrong with my tree? There are black spots on the
leaves," shared Noggle.
"I have to start by reaching the person and asking what type of tree it is, how old the tree is,
have you done anything different this year to the tree to begin to answer the questions. This
process can be streamlined by answering the questions on the form to the best of your
ability, first."
These questions are many times routed to our trained Master Gardener Volunteers in the
county. We will still try to answer questions if you don't answer all the questions on the online
form or if you call the office. However, it saves time by answering as many of the questions as
possible and uploading pictures on the form. Additionally, the blog posts have a share button
via email, Facebook, and Twitter if you want to share the information with your family and
friends.
For more detailed information about Agriculture, Natural Resources, 4-H, SNAP-Ed
programming, or Water Quality programs, visit the Paulding County Extension website at
www.paulding.osu.edu or the OSU Extension Paulding County Facebook page.
For additional information on any agriculture or horticulture topic, contact Sarah Noggle,
Paulding County Extension Educator, Agriculture, and Natural Resources, at
noggle.17@osu.edu. Due to COVID-19, individuals cannot walk in the OSU Extension Office at
503 Fairground Drive, Paulding, without an appointment. However, you can still reach any
person in the Extension Office by calling 419-399-8225.
Power2Change Organization Continues Growth
Paulding County – Power2Change is the name for a nonprofit group of Paulding area volunteers trained as Living Free small group facilitators.  Living Free, founded in 1988, is an organization that has created time proven Bible-based curriculums and methodology, for helping individuals overcome "life controlling issues".  The organization is now represented in more than 104 countries and nearly 1 million people around the world have participated in Living Free small groups.
Each small group is held accountable to strict confidentiality to establish high trust and transparency. Group participants have found the sessions to be "spiritually stirring".  An additional benefit has been a bonding of Christians together across denominational boundaries.
In a short time, it has become clear that the Living Free Curriculums are helpful to at least 4 different groups of people: 1) those publicly known to be dealing with "life controlling" issues; 2) those who have recovered from these types of issues and now have a passion for helping others do so; 3) many people who are hiding from exposure and help for these issues, due to shame and fear; 4) those associated with others dealing with these problems and are interested in preventing themselves or others from experiencing these problems.
In early 2018, a coalition of local leaders was created to help deal with the present opiate addiction and death crisis in Ohio.  This creation followed two driving events:  stirring presentations by Darryl Strawberry (a recovered drug addict and Major League All-Star baseball player) followed shortly thereafter with a local forum held in May.  Soon after this forum, local members of the community met with Paulding County Common Pleas Judge Tiffany Beckman to learn more about opportunities to complement the local "drug court" program.  This led to a search for a relevant and effective public program to assist those affected by addiction (addicts, their friends, family, coworkers, and anyone else they associate with).
In November that same year, Dr. Daniel Schreck, founder of the Connection Points Living Free ministry in Ft. Wayne, presented at the monthly Paulding coalition meeting.  It was at this presentation where individuals expressed interest to attend an upcoming Living Free Facilitator Training session in Ft Wayne.
In February 2019, fifteen local individuals went through participation, in a series of sessions of an Insight Group, and subsequently formed the local "core team" of a Living Free Community.  In May, the local group registered with the state of Ohio as a nonprofit corporation under the name "Power2Change".
Since that time, Power2Change has offered various Living Free small group curriculums to individuals within the Paulding County area.  Already, significant positive life changes have been observed in numerous individuals.
Now, Power2Change is arranging for small-group sessions in various locations throughout Paulding County.  Participants from surrounding counties are also welcome.  The organization is open to growth into surrounding counties as resources and demand develop.  All Power2Change members freely volunteer their time. To be a "Power2Change" facilitator one must: 1) go through Living Free Facilitator training, 2) participate in an "Insight Group" and 3) subscribe to the Power2Change set of governing beliefs.
If you would like to know more about the Power2Change program, or help with their work, please look at their website www.P2cpaulding.org or their Facebook page Power2Change.  You can also reach out to Registrar and Vice President Colette Brown alwascmb@gmail.com 419-789-8404 or President Dwight Stoller dstoller@dlfamily.org 419-203-1881
Dandelion Boutique opened in Paulding
PAULDING, OH – The Dandelion Boutique retail store opened at 101 West Perry Street in Paulding, OH
on August 1, 2020. Business owner Suzanna Hasch is offering a women's and children's clothing
line. The store will carry many items Made in the USA. In addition, there will be several local crafters
with items for sale as well as the ability for customers to place and pick up custom orders from
participating crafters, providing a unique local shopping experience for both women and men.
The Dandelion Boutique already has an online shopping presence. Suzanna hopes to grow the business
by opening the retail space and offering a customer loyalty program with discounts for continued
purchases to returning customers.
Suzanna was born and raised in Paulding. Suzanna remembers what the courthouse square looked like
as a child. "I loved riding my bike or walking uptown when I was younger, going to the Ben Franklin
dime store for penny candy or to the Village Apothecary for fountain drinks. It saddens me to see it so
empty now, not only for my kids, but for all area kids. They don't get to feel that same sense of
"community" or "belonging" that was around when I was younger. I've been talking with my family
about opening a store for several years. Since ALCO closed there hasn't been anything local to buy
clothing items. I finally decided to take the leap this year which is how the Dandelion Boutique came to
be," stated Hasch.
Suzanna and her husband James have been married about a year. They have three children; James Jr.,
Ashlyn and Liam, two dogs and numerous cats. Her Grandfather Leo McGrath was also a Paulding
County Commissioner and a local farmer. The family still farms the property today.
The store will be open Monday through Friday 8am-8pm and Saturday 10am-2pm to try and provide
open hours for customers regardless of what shift you work. The Dandelion Boutique hopes to be an
exciting destination for any customer from anywhere in Paulding County and beyond. You can find the
store online now at www.dandelionboutique.net; on Facebook at Dandelion Boutique or
#MyDandelionBoutiqueOH, Instagram DandelionBoutique2020 or email customerservice@dandelionboutique.net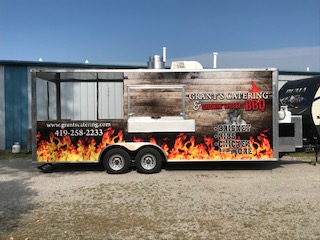 Grant's Catering Adjusts Business Model
ANTWERP – Grant's Catering has made an adjustment in their catering venue. On
Friday, August 28, Grant's Catering will introduce the Grant's Catering and
Smokin' Wheels BBQ trailer. It will make its debut in a grand opening event in
downtown Antwerp. The newly finished, dual axel travel kitchen, will serve up
brisket, ribs, chicken & more for lunch from 11am-1pm and dinner from 5pm-7pm
that evening. The trailer will be located that evening in front of the historic FORD
Garage on Main Street.
Due to mandated social distancing requirements and regulated gathering
numbers of patrons, Grant's existing catering business, both at their Antwerp
building facility and reception events all around the area, were severely
downsized or many even worse, cancelled. As the mandates wore on through
May, June and July, owner Brandon Grant knew that their business must modify
and adjust or it would basically just dry up.
Closely following the food industry trends, Brandon knew that food trailers were
becoming all the rage. Taking a chance, the Grant's have designed and invested in
a trailer that can go where the events are, or make their own to possibly help save
the Grant's catering business. Knowing of some existing food trailer venues
already, Brandon hopes to test the waters with his new trailer at this Antwerp
kick-off event. They would like to work with Antwerp and surrounding
communities in developing some additional events that might allow social
distancing, food and fun, especially on Friday evenings since attendance at
football games will now be limited.
If you would like to know more about Grant's new travel trailer catering option or
even make plans to host an event with the trailer or just the old fashion way at
their hall, you can call 419-258-2233 or visit the website at www.Grant'sCatering.com
Microtronix ESolutions will be opening a new storefront on Monday, July 6 in Paulding County! The store will be located at 103 W. Perry Street in Paulding. They will be open Monday through Friday 1-5 pm for computer equipment drop-offs and purchases to local Paulding residents. Microtronix will review business and add hours and staff as the location grows.
Microtronix offers many different services through three divisions: IT, Hosting, and Website Design/Development. Through the IT Division, they do offer equipment sales including; PC's, MAC's, computer parts, upgrades, printers and more. They also offer computer and system repair. They provide business and industrial networking and cabling, along with enterprise-level networking equipment and installs. Microtronix offers IT support services for both business and personal use. They currently provide business to business remote support for customers as far away as Toledo!
From their Hosting Division, they provide dedicated servers for hospitals, banks, and other businesses to run off-site replication services, website hosting, business email hosting, virtual servers, and domain registrations. They are an accredited ICANN Registrar. Future plans include opening a data center in 2020 at a site yet to be determined!
From the Website and Development Division, Microtronix offers website design and e-commerce stores. They also provide custom software development for businesses. They work to help you with mobile app development for Android and iOS, logo design, search engine optimization, and online marketing, in addition to Google and Facebook Ad Management.
Starting the business in February 2001, they moved to their main Ottoville, Ohio offices in 2017, owner Joel DeVenney has built the business through dedication to both large and small customers, adjusting to their individual technology needs as necessary. Joel and his team have developed a large network of providers for each of the aforementioned divisions of service. With this network, if a customer's IT service is not able to be internally fulfilled, one of their network providers can assist. The goal of Microtronix is to grow into a one-stop-shop for all IT needs, using all sources available to make this happen.
The Ottoville store will continue to carry the 8 am-5 pm hours with all services available by phone or in person, business services are available at their main offices during the hours stated.
Check out their corporate website at microtronixesolutions.com or their IT division at microtronix-tech.com. You can reach Joel and his team locally by phone at 419-458-2880 during the main office regular business hours, or you can contact them by email sales@microtronix-tech.com.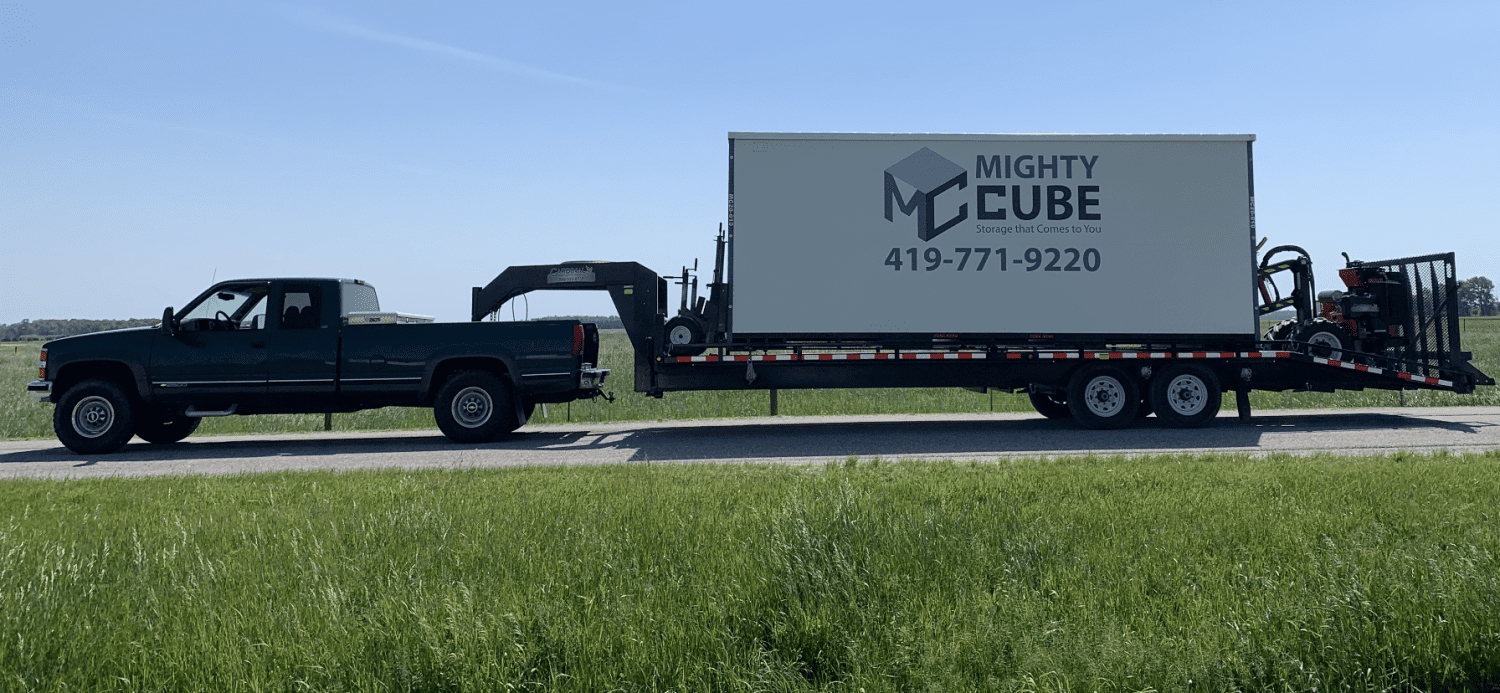 Paulding, Ohio welcomes Mighty Cube, LLC, a new business owned by Chad Manz and Klint Manz.  Chad and Klint believe that everyone should have their own personal garage and have an opportunity to organize and enjoy your home to the fullest.  They look forward to serving Paulding County and surrounding areas as a portable storage business that will deliver storage solutions to your doorstep.  Your Mighty Cube is a convenient and efficiently sized portable storage container measuring 20 feet long by 8 feet wide by 8 feet tall.  Mighty Cube on-site storage will give you convenient access to your belongings while you remodel your home, move to another home, spring clean or reorganize, or just need additional space.   With state of the art delivery equipment, your portable storage cube can be placed wherever you would like, whether in your driveway or your backyard.  You can fill up your storage cube and store it at your site or Mighty Cube can pick it up, store it for you at their location, and deliver it at a later date when you are ready for it.  Both short and long term rental solutions are available and, if you find that you can no longer live without your personal garage space, purchase options are also available.  You can visit Mighty Cube's website at www.mightycubestorage.com or contact them by email at info@mightycubestorage.com and by phone at 419-771-9220 to reserve your storage cube today.
New Local Pressure Washing Services
Oakwood, Ohio – Despite recent changes in the local economy, a new business is unfolding in Paulding County.  BND Pressure Washing Services was established in 2019 after owner Brandon Woodruff, a 2006 graduate of Paulding High School, returned home from a 12-year career in the United States Army.
Hired to work full time in a Defiance County manufacturing facility, business came to a grinding halt for the facility with the COVID pandemic outbreak.  With the general population confined at home and having time to review their property, Brandon found that his pressure washing services were now in high demand.  Whether it was power washing green mold off house siding, washing barns, roofs, garage doors, driveways or sidewalks, everyone was looking for a fresh and new look, without the new cost, through this commercial cleaning option.
BND Pressure Washing Services, named after Brandon and his two sons Noah and Dalton, have been providing power washing throughout northwest Ohio and eastern Allen County Indiana.  Having already completed jobs in Paulding, Defiance, Putnam, Van Wert and Allen County in Ohio, it is not surprising to hear that the positive referrals about this new, green earth friendly company, are being shared.  BND uses high quality detergents that are both eco-friendly and biodegradable.
As a veteran of the armed forces, Brandon also believes it is important to work in tandem with his dedicated and hard-working peers.  BND offers a Hero Discount.  A 10% discount of services is offered to any military personnel, veterans, police, fire, EMS or first responders.
Should you find the need to have a to have something of value pressure washed to return it to looking like new again, please remember to shop local and reach out to Brandon at BND Pressure Washing Service 419-604-3115.  BND Pressure Washing Services is "Open for business"
www.bndpressurewash.com
Spartech's Paulding, Ohio Plant Powers Up Plexiglass Production, Job Opportunities-  As Demand for Clear Protective Barriers Skyrocket During Coronavirus
With demand for clear barriers increasing during the Coronavirus, Spartech's Paulding, Ohio plant has swiftly pivoted to plexiglass, and now has plans to immediately hire fulltime employees. Spartech, a leading manufacturer of engineered thermoplastics and custom packaging solutions, has 15 manufacturing facilities in the United States including three in Ohio.
"To meet the increased demand for clear barrier materials in combatting the Coronavirus, we were able to quickly adapt our processes to start producing plexiglass," said Gary Buckland, Senior Plant Manager for Spartech's Paulding plant. "As a result, we are looking at hiring over 20 new employees."
Located in Northwest Ohio, Spartech's Paulding plant normally produces various thermoplastic polymer and high impact polystyrene materials, not clear acrylic (plexiglass). But in the "new normal," the Paulding Team nimbly shifted to producing plexiglass, which is used for sneeze guards and other clear protective barriers at grocery stores, retail outlets, schools and municipalities. The plant has already converted three production lines for plexiglass. In the meantime, business continues to accelerate.  In fact, just since this program started two weeks ago, the plant has produced enough material to equip over 4,000 grocery store cashier lines.
While the plant is looking to add 20 new employees, Buckland said that number could eventually climb to 40. Candidates with experience operating industrial equipment are encouraged to apply. Hourly starting pay ranges from $14 to $22 depending on the position and experience. Spartech's Paulding plant operates on four shifts: two daytime and two night. For more information on Spartech employment opportunities, click here.
Media Contact: For Spartech, Robin Terhark, Sr. HR Manager, 937.423.3346, robin.terhark@spartech.com
Paulding County COVID-19 Crisis Fund Application
Applications are now available for the Paulding County COVID-19 Crisis Fund grants to assist businesses in Paulding County with relief due to the COVID-19 pandemic.  For the past month, United Way and the Paulding County Area Foundation have marketed a donation relief fund called the Paulding County Ohio Crisis Fund. The fund was established in cooperation with the Paulding Area Foundation and United Way of Paulding County to assist those businesses in need due to the pandemic.  Monies received in this fund will be dispersed through the Paulding County Economic Development Office.
All funds were locally donated with the premise of helping local businesses overcome and survive the statewide shutdown for the COVID-19 pandemic.  In an outreach effort to help as many local businesses as possible, every dollar collected will be dispersed back into the county in the form of grants to Paulding County-based businesses.  This is a 100% grant.  Repayment of the grant is not expected as a grant is defined as a sum of money given by a government or other organization for a particular purpose.
Any business that has been affected by the Ohio statewide shutdown for the COVID-19 pandemic may apply.  Applications can be found on the PC Economic Development website www.pced.net under the "Incentive Programs" tab or picked up at the PCED office at 102 E. Perry Street, Paulding, Ohio 45879.  All grant applications must be filled in completely and must be returned to the office or postmarked by June 30, 2020.  Fund disbursement amounts will be based on the final donation amount collected and the number of eligible applicants.  The intended purpose of this grant is to help offset mortgage, rent, and/or utility bills. Questions about the grant application can be directed to Tim Copsey, PCED Director at (419)399-8282.
Individuals or businesses can still donate to the relief fund, as there is still time.  Please send a donation to the Paulding County Area Foundation, 101 E. Perry Street, Paulding, OH 45879, and indicate Crisis Fund Donation. Questions on the donation fund can be directed to Lisa McClure at (419)399-8296.
Taylor Made Glass Systems, Payne, OH has announced a $1.5 million investment in new digital printing equipment and the addition of two glass fabrication and cut lines.  Additionally, a portion of the company's windshield assembly business will come to Payne from the sister plant in Kendallville, IN.  These exciting changes bring with them an additional 40 jobs to Paulding County.
Taylor Made Glass Systems is is owned by Lippert Components, Inc.  They are a wholly-owned subsidiary of LCI Industries (NYSE:LCII) head-quartered in Elkhart, IN.
KAUSER Excavating, LLC Septic Service – Kauser excavating has purchased a truck to offer local septic system pumping for existing septic systems.  The truck is also equipped with a sewer jetter to be able to clear any plugged sewer lines.  Ben and his staff will continue to handle the daily operations of running the pumper truck, but there is opportunity to grow and hire more employees if the demand warrants the need.  The new Kauser septic service is currently available in Paulding, Putnam, Defiance, Van Wert, and Williams Counties.  They are additionally working to obtain an Indiana license as well. You can contact Kauser Excavating & Septic at 419-769-9969 or kauserexcavating@gmail.com 
Growth Fitness of Paulding is a new 24 hour gym facility in the Paulding Place Shopping Center.   Owner Kass Chestnut comes to Paulding County form the Delta, OH area where he has previously offered personal excercise and training programs.  Kass is hoping to grow the Paulding County business by being the first 24 hour operating gym in the county.  You can find the complete pricing and all membership options at www.growthfitnesspaulding.com or by calling or texting 419-785-6411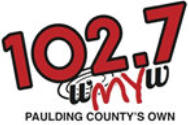 WMYW 102.7 FM officially is Paulding County's only locally owned & licensed radio station. MY102.7 FM is owned by Joe B. Barker of Antwerp, Ohio. Joe says, "We will be playing classic rock including the Beatles to Bon Jovi.  We're in the process of building a studio inside the existing concrete structure at the broadcast tower on Road 176 west of LaFarge.  I'm excited about giving our local schools and county local events a spot light."
Just recently the station has added a sports program segment that includes updates and information about all three county school systems Antwerp Local, Paulding Exempted Village and Wayne Trace Local.  There are also highlighted segments each Saturday morning on My102.7 Sports. Check it out today at 102.7 FM.
Paulding Ace Hardware has invested in a new Sales, Service & Rental Center at 1251 N William St in Paulding, Ohio. Tom Sinn and his staff are now selling a complete line of TORO lawn and garden equipment and servicing all makes of lawn and garden equipment. They have a complete line of STIHL products for both homeowners and commerical users. The new rental center has a wide range of items from table and chairs to small excavating equipment for rent. They are open Monday – Saturday from 7:30 AM to 7:30 PM and Sunday 11:00 AM to 4:00 PM. Phone 419-399-3136. Their E-mail address is pauldingacehardware@yahoo.com. Like them on Facebook: Paulding Ace Hardware.
Paulding County Fairgrounds Fund Through the great work of a dedicated committee of volunteers with the Paulding County Fairgrounds Fund and the generous donation of time, materials and money from many donors, this project has now been completed. The 4-H youth of Paulding County that exhibit swine, lambs, goats, and poultry will benefit from these new buildings for many years to come. The buildings will be a great resource for other events that are also held at other times of the year at the fairgrounds. If you would like to donate to the Paulding County Fairgrounds Fund please send your donation to the Paulding County Area Foundation at 101 E Perry Street, Paulding, Ohio 45879. If you have any questions please contact Lisa McClure, Executive Director with PCAF at 419-399-8296.