The Paulding Dairy Queen has finished its major remodeling project located at 1101 N Williams Street in Paulding. The Paulding Dairy Queen invites you to try the new DQ Bakes!TM Artisan-style Sandwiches, new DQ Bakes Oven Hot dessert items and a new $5.00 lunch menu that will have your hunger covered. To special order your special ice cream cakes stop by your local DQ or call 419-399-2542. Hours 10:30am to 10pm & Sunday 11am–10pm
Logisticize Ltd has purchased the former Liechty Farm Equipment property at 821 E Perry Street in Paulding. Logisticize Ltd is a specialty transportation trucking company serving the region. Owner Rick Plummer is excited about this new location. It will provide them easy access to US 127 and additional parking for their fleet of trucks. They are looking for additional truck drivers as they expand their services. You can contact them at 419-399-3900 or Rick at rickp@logisticize.net
NASG (North American Stamping) is in the process of making a large capital investment of new equipment at the Paulding operation. NASG is a world-class manufacturer of automotive seat frames, tooling and automation. NASG's specialties include: tube forming, wire forming, metal stamping, MIG and resistance welding. NASG also provides full service e-coat and powder coat finishes. Phone 419-399-4500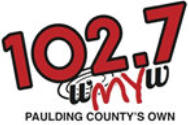 WMYW 102.7 FM officially is Paulding County's only locally owned licensed radio station. MY102.7 FM is owned by Joe B. Barker of Antwerp, Ohio. Joe says, "We will be playing classic rock including the Beatles to Bon Jovi." "We're in the process of building a studio inside the existing concrete structure at the broadcast tower on Road 176 west of LaFarge." "I'm excited about giving our local schools and county local events a spot light." Check it out today at 102.7 FM.
Paulding Ace Hardware has invested in a new Sales, Service & Rental Center at 1251 N William St in Paulding, Ohio. Tom Sinn and his staff are now selling a complete line of TORO lawn and garden equipment and servicing all makes of lawn and garden equipment. They have a complete line of STIHL products for both homeowners and commerical users. The new rental center has a wide range of items from table and chairs to small excavating equipment for rent. They are open Monday – Saturday from 7:30 AM to 7:30 PM and Sunday 11:00 AM to 4:00 PM. Phone 419-399-3136. Their E-mail address is pauldingacehardware@yahoo.com. Like them on Facebook: Paulding Ace Hardware.
Paulding County Fairgrounds Fund Through the great work of a dedicated committee of volunteers with the Paulding County Fairgrounds Fund and the generous donation of time, materials and money from many donors, this project has now been completed. The 4-H youth of Paulding County that exhibit swine, lambs, goats, and poultry will benefit from these new buildings for many years to come. The buildings will be a great resource for other events that are also held at other times of the year at the fairgrounds. If you would like to donate to the Paulding County Fairgrounds Fund please send your donation to the Paulding County Area Foundation at 101 E Perry Street, Paulding, Ohio 45879. If you have any questions please contact Lisa McClure, Executive Director with PCAF at 419-399-8296.